Date: Jan 15, 2021
Posted By: Dakota Cloutier


In a lot of ways, Luke Combs is just like all of us. In more ways than one.

ďI like to think Iím a regular guy. There isnít this big gap between me and the guy in the front row. Thereís something super freeing about that, man. Just say what you believe. Write songs that you love. I just love country music. Itís what I love.Ē

Thatís what Combs has to say on Wednesday nightís (Jan. 13) episode of The Big Interview with Dan Rather. But he also opens up for the first time about his struggles with anxiety dating back to the time he was in middle school, an issue thatís becoming more and more commonplace in adolescents and adults.

ďI still have my moments here and there,Ē Combs told Rather, ďbut itís something Iíve learned about and something Iíve been able to get ahold of. Itís kind of like a unique form of OCD that I have called Purely Obsessional OCD,Ē he explains of what is sometimes called Pure-O OCD. Itís more about mental compulsions and intrusive thoughts than the compulsive behaviors usually associated with OCD, according to the Anxiety and Depression Association of America. ďEssentially, my version of fixing the blinds or straightening the carpet are thoughts that I play over and over in my head. Like for example, itíll be something about my health. Iíll be worried that Iím about to have a heart attack or a stroke. It becomes this very obsessive thing that you literally can never have an answer to. And so thatís kind of the awful part of it,Ē he added. ďYou really have to teach yourself to become being comfortable with the fact that youíll never get an answer.

ďAnd that it is a super uncertain thing. Thatís what Iíve particularly struggled with. Sometimes thatís tough, but itís something that you learn about yourself, and arming yourself with the knowledge of exactly whatís going on is the most important thing, Iíve found.Ē




Date: Jan 08, 2021
Posted By: Paige Davis


Country singer-songwriter Ed Bruce died Friday (Jan. 8) of natural causes in Clarksville, Tenn. He was 81.

Born William Edwin Bruce Jr. on Dec. 29, 1939, Bruce met with Sun Records sound engineer Jack Clement and ended up writing and recording Rock Boppin Baby for Sun Records owner Sam Phillips when he was just 17 (under the name Edwin Bruce). He began writing country hits for other stars, such as Save Your Kisses for Tommy Roe, while recording his own material that grew popular with other stars versions. Charlie Louvin recorded Bruces 1963 pop-oriented song See the Big Man Cry two years later, which reached No. 7 on Billboards Hot Country Songs chart in May 1965.

Bruce tallied 35 total hits on Billboards Hot Country Songs chart in his career. He first debuted on the chart dated Jan. 14, 1967, with Walkerís Woods, which later peaked at No. 57, and scored his first and only No. 1 single 15 years later with Youíre the Best Break This Old Heart Ever Had. The latter also earned him his first of an eventual six top 10s. His classic composition Mammas Donít Let Your Babies Grow Up to Be Cowboys (which he co-wrote with his then-wife, Patsy) reached No. 15 in January 1976, becoming his highest-charting hit at the time. It was later covered by a number of country legends, including Waylon Jennings and Willie Nelson, whose duet version spent four weeks atop Hot Country Songs in 1978. Their version also crossed over onto the Billboard Hot 100, reaching No. 42.

He recorded under RCA and smaller labels such as WandScepter in the 1960s and later signed to multiple labels -- Monument Records in 1969, United Artists Records in 1973 and MCA Records in 1980 -- before eventually returning to RCA in 1984. Aside from music, Bruce recorded voice-overs in television and radio commercials before pursuing a fruitful acting career.

Bruce eventually landed his biggest gig as the second lead role on the NBC television revival of the 1957 Western drama Maverick, titled Bret Maverick, which ran for one year from 1981 to 1982. He played a surly lawman who co-owned a saloon with the titular character Maverick, played this time by James Garner. Bruce also wrote and recorded the shows theme song. He also hosted two of his own shows in the late 1980s: Truckin USA and American Sports Cavalcade.

Bruce was awarded the Arkansas Country Music Award for Lifetime Achievement in 2018 at the University of Arkansas at Little Rock.




Date: Jan 01, 2021
Posted By: Dakota Cloutier


Happy New Year Everyone!!! Say good bye to drama, toxic people and self criticism! Say Yes to more happiness, time with good friends and family!!




Date: Dec 31, 2020
Posted By: Emma Jackson


THE OFFICIAL COUNTDOWN TO 2021 STARTS TONIGHT AT 10PM LIVE ON 979 THE COWBOY!!! PARTY FROM HOME TONIGHT WITH BUDLIGHT BREWED FOR LIVING!!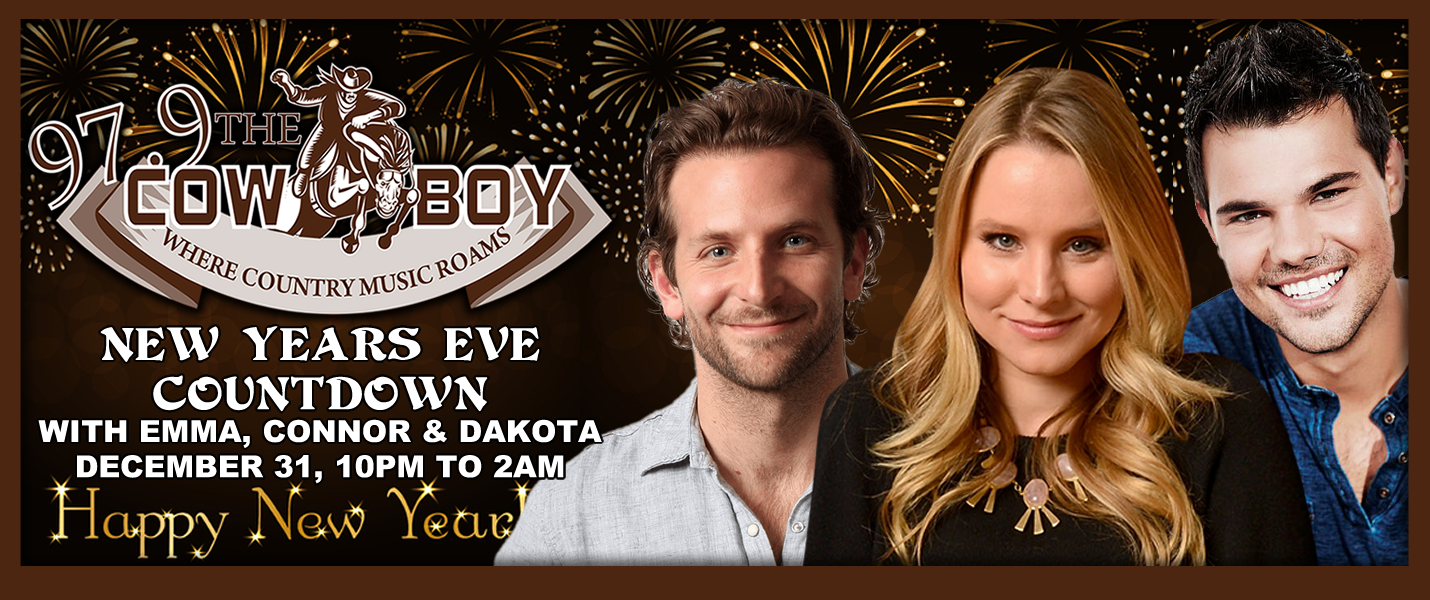 Date: Dec 25, 2020
Posted By: Connor Willson


ďI hope the magic of Christmas fills every corner of your heart and home with joy ó now and always.Ē